My Blog
Posts for tag: oral cancer
By Richard Ta, DDS
May 08, 2017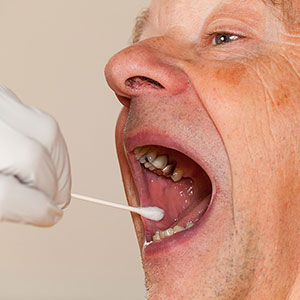 A half million people are diagnosed every year with oral cancer. While other cancers are more prevalent, oral cancer is among the most dangerous with only a fifty percent five-year survival rate.
A major reason for this low rate is because this fast growing cancer is difficult to detect early — diagnosis comes far too often after the disease has already well advanced. In an effort to detect cancer earlier many dentists visually screen for oral abnormalities during checkups, especially patients over fifty, tobacco or heavy alcohol users, patients with a family history of cancer or a medical history of exposure to the sexually transmitted human papilloma virus, HPV-16.
If they detect an abnormality, the dentist often refers the patient to an oral surgeon or other specialist for a possible biopsy. In this procedure the surgeon removes a sample of the abnormal tissue, which is then examined microscopically for cancer cells. A biopsy remains the most effective way to diagnose oral cancer.
Because of the disease's aggressive nature, many dentists lean to the side of caution when referring patients for biopsy. As a result 90% of oral biopsies reveal no cancer. Reducing the number of biopsy referrals is highly desirable, especially for the patient undergoing the procedure. Tissue samples tend to be large to ensure complete detection of any cancer cells. Depending on the size and location of the sample, there may be a risk for loss of function or disfigurement.
A new screening tool using a sample of a patient's saliva could help reduce the number of biopsy referrals. Besides DNA, saliva also contains dormant genes called biomarkers that activate in response to the presence of a specific disease. This particular saliva test identifies those biomarkers for oral cancer if they're present.
A sample with a low score of biomarkers indicates no cancer present (with a statistical confidence of 99%). A medium or high score indicates cancer may be present, but only a biopsy can determine for sure. Using this test, dentists might be able to reduce the number of biopsy referrals and instead be able to employ watchful waiting in certain cases. Because of its simplicity and non-invasiveness, saliva screening could help identify oral cancer earlier.
If you would like more information on early detection and treatment for oral cancer, please contact us or schedule an appointment for a consultation.
By Richard Ta, DDS
March 26, 2016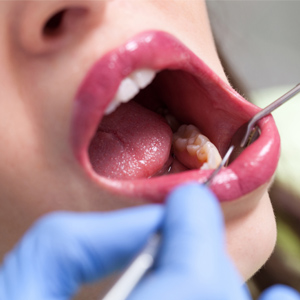 Your regular dental checkups should periodically include an important screening for oral cancer, especially as you grow older. Although oral cancers make up less than 3% of all other types, they're among the most deadly with a 58% survival rate after five years.
Besides hereditary factors, oral cancer is strongly linked to tobacco use, alcohol abuse or diets low in fresh fruits and vegetables. It's also a greater concern as we age: 90% of new cases of oral cancer occur in people over the age of 40, heightening the need for regular screenings. These screenings become all the more important because many early sores or lesions can mimic other conditions like canker sores — without early detection, the disease could already be in advanced stages when it's diagnosed.
An oral screening for cancer involves both sight and touch. We'll first look for any suspicious lesions and red or white patches in the soft tissues of the face, neck, lips and mouth. We'll then feel for any abnormal lumps on the mouth floor, the sides of the neck and in gland locations. We'll also examine all sides of the tongue including underneath, as well as the tissues lining the back of your throat.
If we notice anything that's concerning we may then perform a biopsy by removing a small bit of the suspicious tissue and have it examined microscopically for the presence of cancer cells. We may also remove any lesions deemed pre-cancerous as an added precaution against possible cancer development.
The American Cancer Society recommends an oral cancer screening annually for people forty years or older and every three years for people between the ages of 20 and 39. Even better, we recommend all adults undergo a screening every year. This, along with ending tobacco use and other lifestyle and dietary changes, will greatly improve your chances of remaining free of oral cancer.
If you would like more information on detecting and treating oral cancer, please contact us or schedule an appointment for a consultation. You can also learn more about this topic by reading the Dear Doctor magazine article "Oral Cancer."
By Richard Ta, DDS
October 27, 2014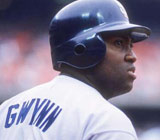 What would it take to get you to give up tobacco? For major league baseball player Addison Reed, it took the death of his former coach, Tony Gwynn. Gwynn, a Hall-of-Famer who played for the San Diego Padres in addition to coaching at San Diego State, was just 54 years old when he died of oral cancer. As soon as Reed heard the sad news, the Arizona Diamondbacks' relief pitcher says he knew what he needed to do: He took every can of smokeless tobacco he owned and dumped them all in the trash.
"It's just become a habit, a really bad habit," Reed told an interviewer at MLB.com. "It was something I always told myself I would quit." But quitting took him many years — in fact, Reed admitted that he first started using smokeless tobacco as a junior in high school.
People begin using tobacco — in the form of cigarettes, cigars, pipes, or smokeless types (snuff, chewing tobacco, or dip) — for a variety of reasons. One major draw is that they see others doing it. And, while smoking is prohibited in most all Major League venues, the use of smokeless tobacco has remained fairly widespread.
Smokeless tobacco isn't a safe alternative to cigarettes. According to the National Cancer Institute, it contains 28 carcinogenic agents. It increases the risk not only for oral and pancreatic cancer, but also for heart disease, gum disease, and many other oral problems. It's also addictive, containing anywhere from 3.4 to 39.7 milligrams of nicotine per gram of tobacco — and its use has been on the rise among young adults.
But now the tide may be turning. After Addison Reed's announcement, his former college teammate Stephen Strasburg (now a pitcher for the Washington Nationals) resolved that he, too, would give up tobacco. "[The] bottom line is, I want to be around for my family," said Strasburg. Mets left-hander Josh Edgin has vowed to try quitting as well. It's even possible that Major League Baseball will further restrict the use of smokeless tobacco at games.
What does this mean for you? It may just be the opportunity you've been waiting for… to stop using tobacco. Dentists have seen how quickly oral cancer can do its devastating work — and we can help you when you're ready to quit. The next time you come in for a checkup, ask us how. Your teeth and gums will thank you — and your family will too.